Gourmet Walking week in the Sierra de Huelva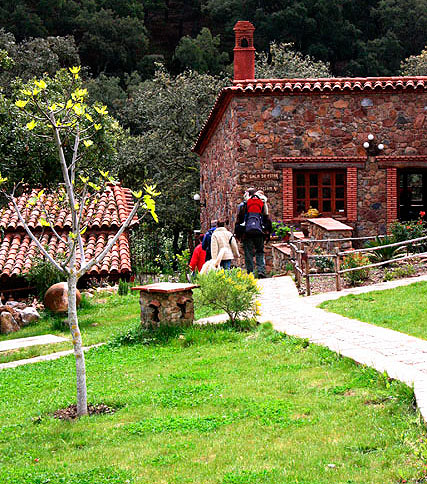 Here at Molino Rio Alajar we invite you to join us on a pre-planned week (8 nights/7 days) that delivers the best the Sierra has to offer: walks through some of the most beautiful scenery in Spain, sampling some of the best local food and restaurants while having the chance to make some of the local delicacies yourself taught by local experts. We have carefully prepared an itinerary each day that takes into account some of our personal favourite walking and eating experiences gained from the last 20 years living in the area.

The week is planned to start on a Saturday and you are free to join it at any point but the sequence of events is fixed across the week so you join the programme on the day of your choosing . Please let us know at the time of booking your chosen starting point. The programme is available from September 15th until 1st of June.

THE WEEK
DAY 1 – Saturday
A 15 km circular walk on ancient donkey trails through cork and olive groves from Alajar to the picturesque village of Linares de la Sierra.Here at halfway point you can have lunch in one of the area s best Michelin listed restaurants Los Arrieros. You will be served a specially prepared five-course gourmet menu including drinks. 40 euros pp.

Afterwards you have the chance to walk back to Alajar or take advantage of a taxi service back to Molino Rio Alajar.

Also on offer is the optional use of the Arab baths in Linares-Hamman Spa and Massage-which you can visit before your meal.
DAY 2 – Sunday
From the selection of detailed walking maps and directions provided on your arrival you can choose a circular walk from your cottage door. During the mushroom season you can pick your own mushrooms. Lunch this day is at El Corcho located in the village square of Alajar some 1.5 km from your cottage. We have arranged a three-course meal with mushrooms and a bottle of wine. Costs 35 euro pp.
DAY 3 – Monday
Today, another favourite circular walk of 13 km right from your cottage doorstep. This one we call the Walk of the Watermills, which takes you on a path running alongside a river past abandoned watermills with glorious views and changing vegetation. At the halfway point we will arrange for a picnic table at the Hermitage of San Bartolome where you will be served a meal prepared by Felisa one of our colleagues. San Bartolome is a favourite local gathering point because it offers such terrific views of the surrounding countryside. Price 25 euro pp.
DAY 4 – Tuesday
A circular 13 km walk starting in Aracena ,along a valley through a bucolic landscape, beautiful at any time of year but stunning in spring with its sparkling wild flowers.

Halfway you reach the village of Corteconcepcion where you can visit one of the regions top Iberican ham producers run by the Eiriz family.

You will be given a tour of the farm facility and an explanation in English of the lifestyle and cycle of the famous Iberican pig.

The tour ends in the tasting room where you will have the chance to sample the best ham on offer.

Back in Alajar you can participate in a cooking course which starts at 18.00 run by Amparo an accomplished local chef.The course will be given in her restaurant La Botica de Amparo. She will teach you how to make 3 typical local dishes which you eat at her place. Price 45 euros pp including a bottle of wine.
DAY 5 – Wednesday
At 11.00 am you can bring a visit to a local cheese farm, which makes and distributes goats cheese all over Spain. At Monterobledo, just outside Aracena, you will be shown how they milk their goats and how to make your own goats cheese which you can take home with you. The programme will include a tasting session of different cheese and the chance to visit a small cheese museum on the farm. The tour lasts for 1 hour 30 minutes. Price 20 euro pp.

Following this you may continue to Aracena (www.aracena.es) where you will have a chance to explore this delightful town.

There will be an opportunity to visit the famous local caves of Aracena – one of the top ten tourist sites of Spain. Locally they are known as the Caves of Wonders. They are open from 15.00 to 18.00 in the afternoon. Also possible is a visit to the Aracena Ham Museum which tells the story of the regions most famous delicacy. Open from 11.00 to 13.45 and 15.30 to 18.00 and includes a tapa.

In the evening in Aracena we have reserved a table at one of the best restaurants in town, the Restaurante Montecruz, where a specially prepared 3 course meal will be served. Price euro 35 pp. After dinner you can take a taxi back to Molino Rio Alajar.
DAY 6 – Thursday
A walk to the village of Castaño de Robledo, named after the local chestnut trees. 9 km.

At 18.00 there is an opportunity to make your own pastry cakes under the tutelage of Teo in the delicatessen shop El Monumento in Castaño del Robledo. Teo's speciality is chestnuts in chocolate.

After the class you go to the main square of Castaño del Robledo where you will find the restaurant Maricastaña located in a beautiful old village house. There Anton, the chef and owner, will serve a specially prepared 3 course meal. Price 37,50 euro pp. After the meal you can take a taxi back to Molino Rio Alajar.
DAY 7 – Friday
Today you undertake one of our favourite walks – The Gorge Walk. – 13 km from the door of your cottage. The walk takes in an extraordinary range of scenery within a relatively short distance, capturing all the beauty of the Sierra. Cork oak forests, ravine, meadows and meandering river.

At 21.00 at the restaurant El Padrino in Alajar we have organised a wine-tasting session in the restaurant's ancient wine cellar which has an interesting collection of old farm implements going back many years. After the wine-tasting and tapas you can enjoy a three-course meal in the old chapel part of the restaurant including a bottle of wine to celebrate the last night of your trip. Price 45 euro pp.

NB – While it is possible to join this programme at any time during the week the events each day remain fixed so you will experience the week in a sequence based on your day of arrival.
Optional extras
On the day of your arrival we can arrange for a simple three-course meal at restaurant Las Palomitas in Alajar – cost 22.50 euros a head. Or see 2.

If you wish we can provide an ovenmeal with starter and dessert so you can prepare your own evening meal and relax in your cottage. Cost 20 euros per person.
Prices
525 euros per person. Minimum 2 persons. All prices assume an eight night stay at the Molino in order to partake in each event. Included in the price is breakfast and 10% sales tax.

Note. We can pick you up and deliver you to Seville airport for 130 euros one way.
General information
Taxi prices: approximate (from Molino Río Alájar):

Aeropuerto de Sevilla: 140 euros
Linares de la Sierra: 20 euros
Corteconcepción: 30 euros
Castaño del Robledo: 20 euros
Aracena: 20 euros
Bus schedule
Monday to Saturday
Seville to Alajar mon/fri day at 9.20 and 16.00 (journey time approx 2 hours)
Sat/Sun and festivals 9.30 and 16.00.Alajar to Seville daily 7.00 and 16.00.
Sunday. Aracena to Seville 11.00 and 17.15.