Gourmet Walking week in the Sierra de Huelva
At Molino Rio Alajar we invite you to join us on a pre-planned week (8 nights/7 days) that offers the best of the Sierra: walks through some of the most beautiful scenery in Spain, sampling some of the best local food and restaurants whilst having the opportunity to make some of the local delicacies yourself taught by local experts.

We have carefully prepared an itinerary for each day that takes into account some of our favourite personal hiking and food experiences gained over the last 25 years living in the area.

In addition, if you wish and prefer to stay relaxed in your cottage, you have the option of having home-cooked meals with menus based on local produce delivered to your accommodation.
The week is planned to start on a Saturday and you are free to join in at any time, but the sequence of events is fixed throughout the week so that you can join the programme on the day of your choice. Please let us know at the time of booking the starting point you have chosen.

The programme is available from 15 September to 1 June. The price for a week's accommodation including breakfast is 570 euros per person including VAT (price based on 2 persons in double bed in our Buho house, for more persons, please consult us).

Please ask us to help you book the activities of your choice!

Upon your day of arrival, we offer you the option to enjoy a 3 courses welcome dinner and a bottle of wine 30€/pers) prepared by Monica and served in your cottage.

THE WEEK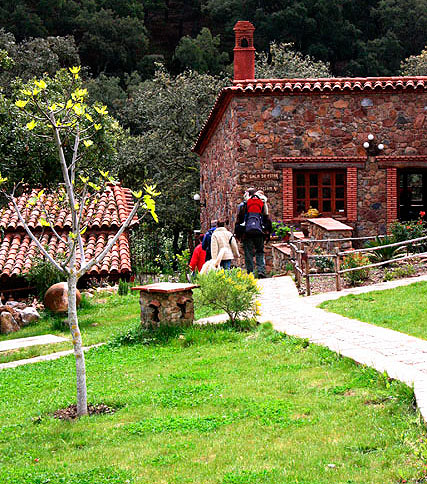 Saturday
A walk to Aguafria with lunch in Restaurant "La Abuela" to taste a typical Andalucían lunch. To go there and come back, you have to walk 15.85km passing orchards of cork and stone oaks.

First, you will arrive in Santa Ana la Real (bar) to continue between stone walls and chestnuts trees to arrive at Aguafria. After lunch, on your way back you will cross several times a stream before coming home.
DAY 2 – Sunday
From the selection of detailed walking maps and directions provided on your arrival you can choose a circular walk from your cottage door. During the mushroom season you can pick your own mushrooms with an expert guides in mycology. Lunch on this day is in the restaurant "El Corcho" situated in the old theater of Alájar, decorated with cork, therefore its name.  There you can have a 3 course mushroom-based menu or eat a la carte, depending on your preferences.
Monday
A circular path of 13 kilometers through ancestral lanes for cattle, crossing cork oaks and olive groves from Alájar to the picturesque village of Linares de la Sierra. Here halfway in Linares at restaurant "Arrieros" you have lunch in a Michelin Guide listed restaurant. Luís-Mi, the chef, will prepare a tasting menu for aprox. €50 / person .
DAY 4 – Tuesday
A circular 13 km walk starting in Aracena ,along a valley through a bucolic landscape, beautiful at any time of year but stunning in spring with its sparkling wild flowers.

Halfway you reach the village of Corteconcepcion where you can visit one of the regions top Iberican ham producers run by the Eiriz family.

You will be given a tour of the farm facility and an explanation in English of the lifestyle and cycle of the famous Iberican pig.

The tour ends in the tasting room where you will have the chance to sample the best ham on offer.

At 6:00 p.m. there is the option of an introductory course to the cutting of Iberian acorn-fed ham. Vanessa, a professional cutter, will lead the course in your rural house with prior agreement. The cost will be 150 euros for a minimum of 2 people, charged 45 euros for each additional person and includes the course and a dinner based on local Iberian products (Iberian ham and sausages). Total cost to be shared by all participants. In addition to the meal a bottle of wine is included.
Wednesday
At 10.00 am you can bring a visit to a local cheese farm, which makes and distributes goats cheese all over Spain. At Monterobledo, just outside Aracena, you will be shown how they milk their goats and how to make your own goats cheese which you can take home with you. The programme will include a tasting session of different cheeses and the chance to visit a small cheese museum on the farm. The tour lasts for 1 hour 30 minutes.Cost approx. 25€/person. (+25€ for interpreter)

Following this you may continue to Aracena (www.aracena.es) where you will have a chance to explore this delightful town.

There will be an opportunity to visit the famous local caves of Aracena – one of the top ten tourist sites of Spain. Locally they are known as the Caves of Wonders. They are open from 15.00 to 18.00 in the afternoon.(from 9€/pers).

Also possible is a visit to the Aracena Ham Museum which tells the story of the regions most famous delicacy. Open from 11.00 to 13.45 and 15.30 to 18.00 and includes a tapa.

In the evening, we recommend a dinner in one of our favorite restaurant in Aracena: "Del Tinto al Odiel" where you can taste some tapas based on the Iberian pig (35 €approx/pers), some more traditional, others more avant-garde … all of great quality! Elena, the head chef won the winning tapa of the V Ruta de la Tapa Ibérica.
Thursday
Circular route to the town of Castaño del Robledo, which owes its name to the chestnut forest that grow in its surroundings. At midday, you can have lunch in restaurant "La Peña de Arias Montano" (approx. €25/pers.) located at "el the "Balcony of the Sierra". Viewpoint of the Peña de Arias Montano, which offers spectacular views of the entire Sierra de Aracena towards the south of the province of Huelva.

In the evening, you can dine in Alajár or choose the option of having a dinner prepared and delivered to you based on local and seasonal products, in your rural house.
Friday
Today it's time for our favorite walk: The Gorge Walk. – 13 km. a walk of an extraordinary range of scenery within a relatively short distance, capturing all the beauty of the Sierra. Cork oak forests, ravine, meadows and meandering river.

At 21.00 at the restaurant El Padrino in Alajar we have organised a wine-tasting session in the restaurant's ancient wine cellar which has an interesting collection of old farm implements. After the wine-tasting and tapa you have a three-course meal in the old chapel part of the restaurant including a bottle of wine. (45€/pers approx).

NB – While it is possible to join this programme at any time during the week the events each day remain fixed so you will experience the week in a sequence based on your day of arrival.
Prices
525 euros per person. Minimum 2 persons. All prices assume an eight night stay at the Molino in order to partake in each event. Included in the price is breakfast and 10% sales tax.

Note. We can pick you up and deliver you to Seville airport for 130 euros one way.
General information
Taxi prices: approximate (from Molino Río Alájar):

Aeropuerto de Sevilla: 160 euros
Linares de la Sierra: 25 euros
Corteconcepción: 35 euros
Castaño del Robledo: 25 euros
Aracena: 30 euros
Bus schedule
Monday to Saturday
Seville to Alajar mon/fri day at 9.20 and 16.00 (journey time approx 2 hours).(Fridays at 19h also).
Sat/Sun and festivals 9.30 and 16.00.Alajar to Seville daily 7.00 and 16.00.
Sunday. Aracena to Seville 11.00 and 17.15.