Walking Holiday
in the Sierra de Aracena Natural Park
We invite you to a pre-planned walking week centred around three different accommodation points. Firstly at Molino Rio Alajar just outside the beautiful village of Alajar, then on to Biarritz Rural, in Fuenteheridos and finally the Hotel Convento Aracena at Aracena.

The Sierra is a natural haven for walkers since it offers centuries old paths, trails and bridleways that criss-cross the region linking all the beautiful white walled Andalucian villages in the natural park. The area is home to some of the most attractive flora and fauna in Spain and each day provides an opportunity to see the diverse scenery and vegetation on display.

The package on offer comprises three nights in El Buho at Molino Rio Alajar, two nights at Biarritz Rural and finally two nights at Hotel Convento Aracena.. It is available from September 15th until May 31st. You are free to vary the sequence of places you want to stay in if you wish. Please indicate at the time of booking.

The price, based on two people sharing, is 492.50 euros p.p (total 985 euros) which includes accommodation, breakfast, detailed walking maps and luggage transport from each venue. If you elect to come by bus from Seville we will collect you from the Alajar bus stop and for your return to Sevilla you need a 5 minutes walk to reach the bus station.
DAY 1
Arrival at Molino Rio Alajar.

Welcome to the Sierra de Aracena, where you will spend your first 3 nights in the heart of the Natural Park, at the Molino Rio Alájar country cottages.

Molino Río Alájar is hidden in the peaceful valley near the charming village of Alájar, considered one of the jewels of the protected natural park of the Sierra de Aracena. This region of Spain, still too little known, is a paradise for walkers who love sun, peace and nature.

The Molino Río Alájar cottages offer comfortable rural accommodation in a unique Spanish environment.

On arrival, you will be welcomed by the Molino. Possibility of dining in your own cottage, a three-course menu € 30 per person with bottle of wine included. The holiday begins!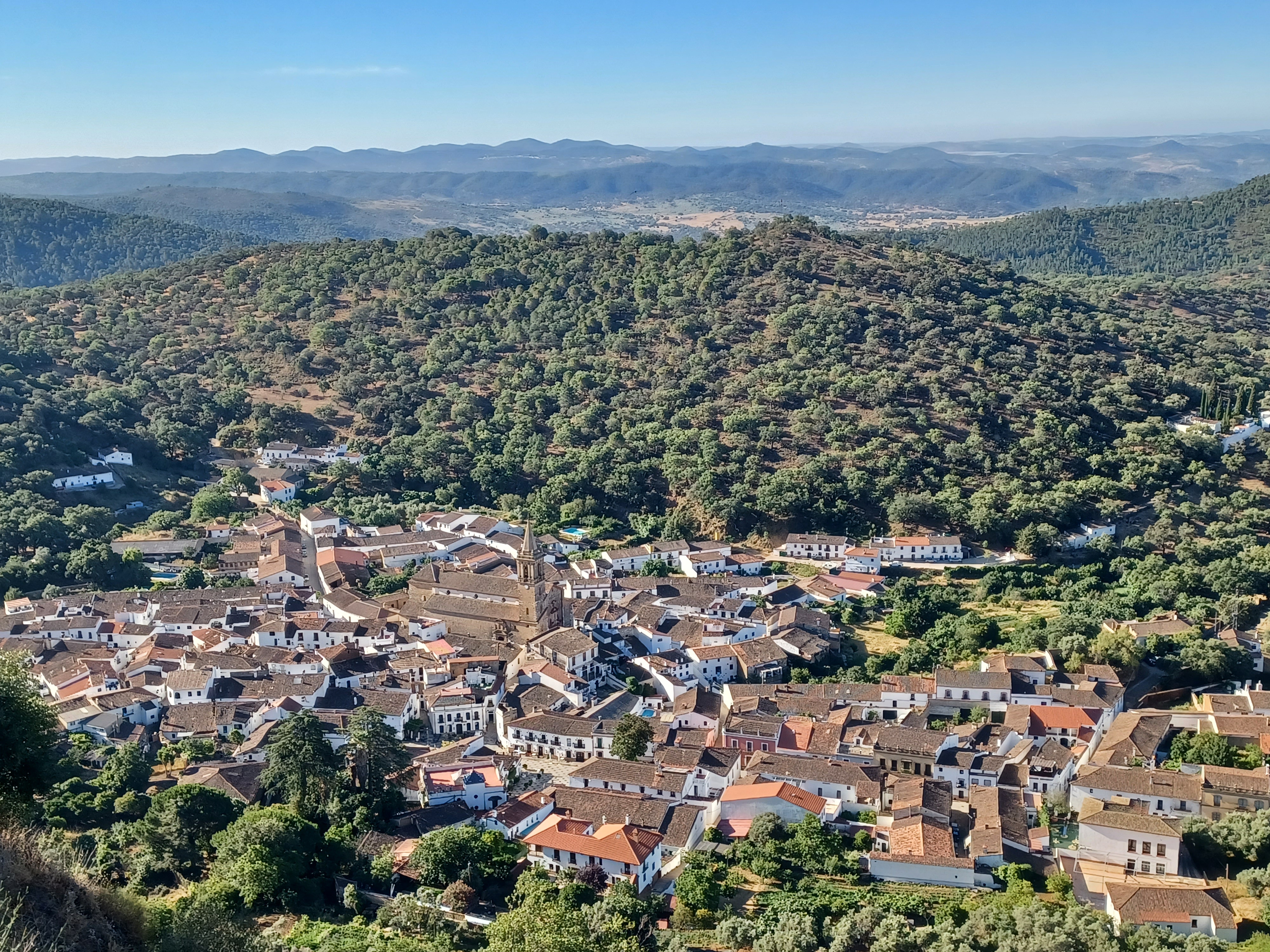 DAY 2
The Gorge Walk – 13.65 km.

This fabulous walk (our favourite) takes in an extraordinary range of scenery within a relatively short walk capturing all the beauty of the Sierra; dehesa, cork oak forests, olive and chestnut trees, a ravine, meadows with the famous indigenous black pigs, past farms with cows and maybe bulls and goats. Finally you follow a meandering river back to your cottage. In the course of the walk you will have the chance to see as many as 100 different species of birds.

The dehesa is a form of land use typical of south-eastern Spain. Under the scattered oaks, pigs, horses or cows graze. The animals have shade here and the pigs in particular feast on acorns.
DAY 3
The Hippy walk – 14 km.

Today you will start with a good climb to arrive halfway to Castaño del Robledo, a picturesque village with a Roman church and an interesting second never finished church.

The walk goes uphill through the hamlet of El Calabacino, passed the ermita (chapel) of La Trinidad, partly on a Roman stone path.

The houses of El Calabacino lie scattered around the hill with spectacular views. After, you walk through chestnut woods to arrive in Castaño del Robledo (bars).

On your return you have the possibility to visit the Peña de Arias Montano; Peña de Arias Montano a natural monument of great scenic and historical value. It offers incredible views of Alájar and all towards the south of the province of Huelva.
DAY 4
Walk to Fuenteheridos – 11 km.

After your breakfast it's time to move to your next accommodation in Fuenteheridos. We will take your luggage to your accommodation "Biarritz Rural".

You start your walk direction the semi abandoned hamlet of Los Madroñeros where there are more cats than people. Continue to Alájar, than uphill to la Puerta de Linares to cross the road and follow the path with great views over Alájar and surroundings.

After this, the walk passes through chestnut trees, which attracts many visitors in autumn when the chestnuts fall. This is also a perfect time to pick wild mushrooms. Your walk will end in the attractive town of Fuenteheridos famous for its fountain "Fuente de los Doce Caños".

Fuenteheridos has a good selection of bars and restaurants.
In the evening you have the option to dine in your rural apartment or eat at a local restaurant.
DAY 5
Circular trail from Fuenteheridos – 11km

Today your walk starts from the door of your hotel for a circular walk that will offer you new good views.

Leaving the village passing its cemetery (note the original detail on the gate!), you continue through chestnut forests, note the old wine cellar on your left. In spring, the Sierra offers you many flowers, in autumn a great variety of mushrooms.  Your walk continues through mixed forest.

After crossing the main road, you will come to the highest part of you walk to enjoy wide views of the natural park. Your are now on your way back to Fuenteheridos.
DAY 6
Sendero to Aracena -12 km

A classic route through beautiful countryside linking the regioanal capital of Aracena with the pretty village of Fuenteheridos.

It is an easy stroll through chestnut groves, farms and small holdings on well made tracks and trails.

On your arrival at Aracena you pass the main square before arriving at the Hotel-Convento of Aracena a beautiful restored convent transformed into a 4 star hotel. Your luggage will be there.

Today, if you want, you can visit the famous Caves of Wonders and climb the hill to arrive at the castle of the Templars.

For your evening meal you can either eat at the restaurant in your hotel or going to town.

DAY 7
Sendero de Corteconcepcion. A circular walk (11 km).

The trail winds through a bucolic landscape, beautiful at any time of the year but stunning in spring with its sparkling wild flowers.

Upon your arrival in Corteconcepcion you have the possibility to visit one of the best ham producers of the area of the family Eiriz. Here you can take part in a guided tour (english spoken).

On your return to Aracena start with a climb, followed by a stroll through cattle country on a broad dirt track that runs along high ground giving good views, before coming down to Aracena.
DAY 8
After breakfast, end of you walking week.

We recommend extending this week with a visit to Seville, city of flamenco, Carmen, the Alcázar and the Giralda.
Some practical information
Bus Times
See DAMAS buses schedules

Sevilla (Plaza de Armas) to Alájar.
Everyday 09:20 y a las 16:00 (2 hours time approximately) and on Fridays at 19h.
Aracena- Sevilla.
Daily: 07.45 17.15 1,5 hours time approximately.

Taxi. Sevilla-Alájar-Aracena / Sevilla. 160 euros.