Casa Estrella
AR/HU/00323.
---
This fabulous house is perfectly situated, in a quiet street on the edge of the beautiful village of Alájar. This is as good a holiday location as you will ever find; pretty as a picture postcard, it's a charming village, the jewel of the Sierra de Aracena.

The icing on the cake is that the house enjoys the best of both worlds. Whilst the front opens directly to the village street outside, at the rear its gardens, terraces and pool look out to verdant nature with nothing – and nobody – to spoil the view. Just a stroll away from bars and restaurants, it is nevertheless entirely private, every bit as good as being in the middle of the countryside.

And the house does its splendid location proud, too. A traditional village property which rambles delightfully up and down over four floors, it has been beautifully restored, refurbished and updated by its English owners. The result is wonderful, both inside and out!
House Summary
Ground Floor: Entrance Lounge (Sala de Entrada). Master Bedroom with queen-sized double bed, en-suite walk-in shower room, dressing room and shaded, furnished private terrace (with a stairway down to the gardens). Double bedroom (a few steps down from the Sala de Entrada)

First Floor: Living Room (the Snug. Bathroom (shower over bath tub) / Laundry Room

Loft: Large bedroom with two double beds

Garden Floor: Kitchen / Dining Room. Dining Terrace . Pool & Garden. Pool bathroom / W.C.
Facilities
Spanish TV • DVD • CD Player • Docking station for MP3's with speakers • Collection of books, games and DVD's

Glass fronted wood burning stove in the living room • Underfloor central heating throughout • Portable Fans • Fly screens throughout • Mosquito netting over all beds

Electric Oven • Ceramic hob (4 rings) • Microwave • Fridge / freezer • Toaster • Juicer • Kettle • Coffee machine • Blender • Cooking utensils • Cutlery • Crockery • Washing Machine • Tumble dryer • Iron & board

All linen is provided (including pool towels) • Hairdryer • Travel Cot • Gated, filtered swimming pool (7.0 m x 4.0 m, 1.4 m deep)

Pool terrace • Pool shower • Pool cover • Gardens • Sunbeds • Sunshades • Hammock • Barbecue • Outdoor dining and garden furniture • Night lighting

RESERVATIONS
PRICE LIST
| From/to | Price per week (€) | Price per 3 nights (€) |
| --- | --- | --- |
| 8th Jan / 25th March | 1295€ | 555€ |
| 26th March / 30th June | 1400€ | 600€ |
| 1st July / 30th Sep | 1505€ | 645€ |
| 1st Oct / 7th Jan | 1400€ | 600€ |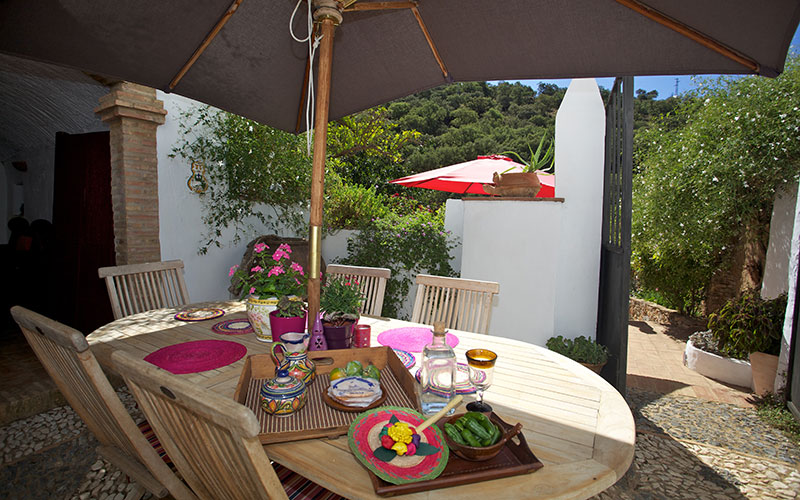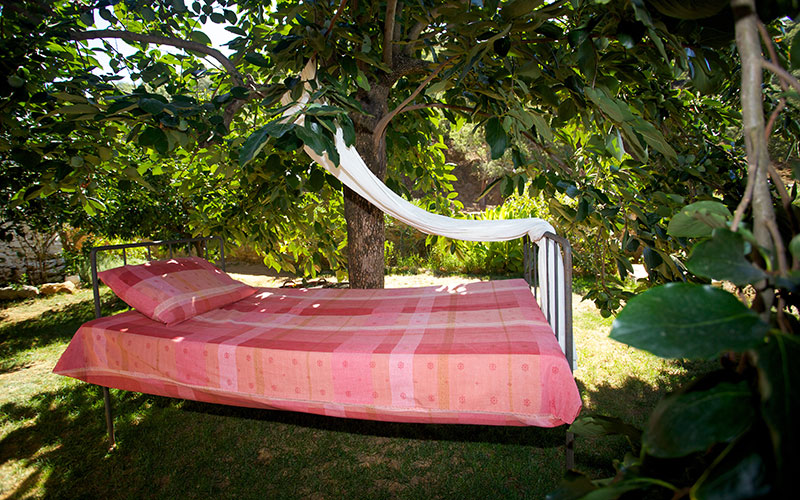 AVAILABLE

OCCUPIED

OPTION
September 2023
Su
Mo
Tu
We
Th
Fr
Sa
1
2
3
4
5
6
7
8
9
10
11
12
13
14
15
16
17
18
19
20
21
22
23
24
25
26
27
28
29
30
October 2023
Su
Mo
Tu
We
Th
Fr
Sa
1
2
3
4
5
6
7
8
9
10
11
12
13
14
15
16
17
18
19
20
21
22
23
24
25
26
27
28
29
30
31
November 2023
Su
Mo
Tu
We
Th
Fr
Sa
1
2
3
4
5
6
7
8
9
10
11
12
13
14
15
16
17
18
19
20
21
22
23
24
25
26
27
28
29
30
December 2023
Su
Mo
Tu
We
Th
Fr
Sa
1
2
3
4
5
6
7
8
9
10
11
12
13
14
15
16
17
18
19
20
21
22
23
24
25
26
27
28
29
30
31
January 2024
Su
Mo
Tu
We
Th
Fr
Sa
1
2
3
4
5
6
7
8
9
10
11
12
13
14
15
16
17
18
19
20
21
22
23
24
25
26
27
28
29
30
31
February 2024
Su
Mo
Tu
We
Th
Fr
Sa
1
2
3
4
5
6
7
8
9
10
11
12
13
14
15
16
17
18
19
20
21
22
23
24
25
26
27
28
29
March 2024
Su
Mo
Tu
We
Th
Fr
Sa
1
2
3
4
5
6
7
8
9
10
11
12
13
14
15
16
17
18
19
20
21
22
23
24
25
26
27
28
29
30
31
April 2024
Su
Mo
Tu
We
Th
Fr
Sa
1
2
3
4
5
6
7
8
9
10
11
12
13
14
15
16
17
18
19
20
21
22
23
24
25
26
27
28
29
30
May 2024
Su
Mo
Tu
We
Th
Fr
Sa
1
2
3
4
5
6
7
8
9
10
11
12
13
14
15
16
17
18
19
20
21
22
23
24
25
26
27
28
29
30
31
June 2024
Su
Mo
Tu
We
Th
Fr
Sa
1
2
3
4
5
6
7
8
9
10
11
12
13
14
15
16
17
18
19
20
21
22
23
24
25
26
27
28
29
30
July 2024
Su
Mo
Tu
We
Th
Fr
Sa
1
2
3
4
5
6
7
8
9
10
11
12
13
14
15
16
17
18
19
20
21
22
23
24
25
26
27
28
29
30
31
August 2024
Su
Mo
Tu
We
Th
Fr
Sa
1
2
3
4
5
6
7
8
9
10
11
12
13
14
15
16
17
18
19
20
21
22
23
24
25
26
27
28
29
30
31
September 2024
Su
Mo
Tu
We
Th
Fr
Sa
1
2
3
4
5
6
7
8
9
10
11
12
13
14
15
16
17
18
19
20
21
22
23
24
25
26
27
28
29
30
October 2024
Su
Mo
Tu
We
Th
Fr
Sa
1
2
3
4
5
6
7
8
9
10
11
12
13
14
15
16
17
18
19
20
21
22
23
24
25
26
27
28
29
30
31
November 2024
Su
Mo
Tu
We
Th
Fr
Sa
1
2
3
4
5
6
7
8
9
10
11
12
13
14
15
16
17
18
19
20
21
22
23
24
25
26
27
28
29
30
December 2024
Su
Mo
Tu
We
Th
Fr
Sa
1
2
3
4
5
6
7
8
9
10
11
12
13
14
15
16
17
18
19
20
21
22
23
24
25
26
27
28
29
30
31
January 2025
Su
Mo
Tu
We
Th
Fr
Sa
1
2
3
4
5
6
7
8
9
10
11
12
13
14
15
16
17
18
19
20
21
22
23
24
25
26
27
28
29
30
31