nrc.nl
Andalusië anders
De Sierra de Aracena heeft niets speciaals te bieden en daardoor van alles. Verslag vanuit een toeristische blinde hoek.

ELSEVIER
Weg van het massatoerisme in Andalusië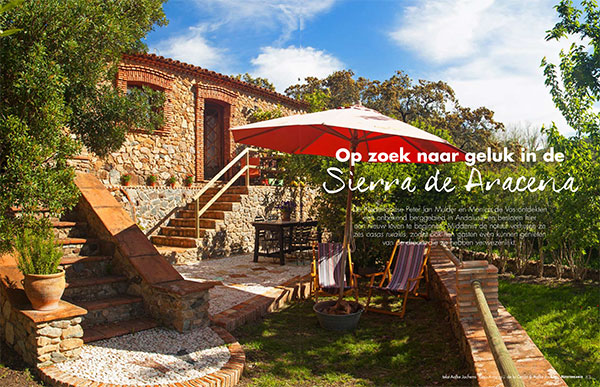 Magazine Méditerranée
Op zoek naar geluk in de Sierra de Aracena
De Nederlandse Peter Jan Mulder en Monica de Vos ontdekten een onbekend berggebied in Andalusië en besloten hier een nieuw leven te beginnen. Middenin de natuur verhuren ze zes casas rurales, zodat ook hun gasten even kunnen genieten van de droom die ze hebben verwezenlijkt.

Elegance Travel
Andalusië
Niet gek opkijken als je vanaf je bedje aan het zwembad van Molino Rio Alajar kleine zwarte varkentjes ziet rondscharrelen in het prachtige landschap van Sierra de Aracena..
Thank you for a lovely week. Kisses for Higo from all of us--the girls miss him badly. And warm greetings to Jose-Maria and the burras. Gracias.

A brief note to say how much we enjoyed our stay at the Molino. Peter and Monica have done a beautiful job constructing the houses out of reclaimed materials. The setting and houses are wonderful. Our thanks to them and to Val for organising our booking.

We had a lovely time, and got a lot more out of our holiday than we could have imagined. Our lack of Spanish made us feel vulnerable, and we were grateful for the help we were given, especially with the lovely restaurant in the next village, and the walking guide. Hope to be back again.