nrc.nl
Andalusië anders
De Sierra de Aracena heeft niets speciaals te bieden en daardoor van alles. Verslag vanuit een toeristische blinde hoek.

ELSEVIER
Weg van het massatoerisme in Andalusië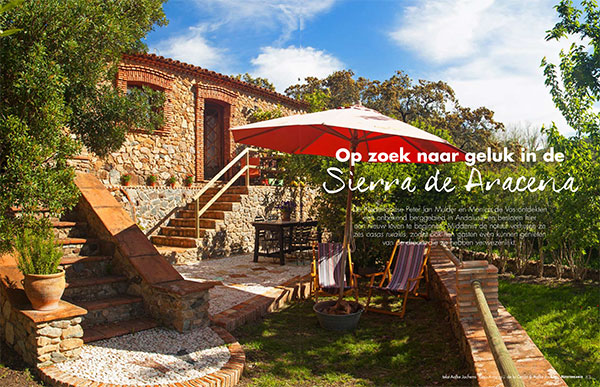 Magazine Méditerranée
Op zoek naar geluk in de Sierra de Aracena
De Nederlandse Peter Jan Mulder en Monica de Vos ontdekten een onbekend berggebied in Andalusië en besloten hier een nieuw leven te beginnen. Middenin de natuur verhuren ze zes casas rurales, zodat ook hun gasten even kunnen genieten van de droom die ze hebben verwezenlijkt.

Elegance Travel
Andalusië
Niet gek opkijken als je vanaf je bedje aan het zwembad van Molino Rio Alajar kleine zwarte varkentjes ziet rondscharrelen in het prachtige landschap van Sierra de Aracena..
Espectacular Fin de semana inolvidable. Repetiremos seguro. Fuimos mi mujer, mi hijo, nuestro perro y yo. Nos quedamos en casa la tortuga y todo fue de 10: el entorno, la casa, el trato con los caseros. No le ponemos ningun pero. Recomendable al 100%. Las casas y toda la finca como nuevas, todo muy limpio y cuidado. Recibimiento con botella de vino incluido. Calefaccion y aire acondicionado en toda la casa. Lugar donde desconectar y andar por multitud de senderos. Un fin de semana increible.

Hello Monica and Peter, Home safely early this morning. This is just a wee note to thank you for all you help and hospitality over the last week. Thanks for the "speed shopping", for taking us to and from Aracena, for recommending Pam's lunch restaurant, for the brilliant walks way-marking and for being so kind and generous of your time. I hope you have a busy season. All the very best

We checked in successfully - and had a wonderful time. Molino Río Alájar was lovely, as were our hosts Peter and Monica.

Hemos pasado los dias de semana santa en estas ESPECTACULARES casas rurales. El paraje donde estan situadas es precioso!! Mejor que en fotos!! Las casas estan muy bien decoradas y super acogedoras!! SON DE PELÍCULA!! Los dueños son muy discretos. Tenían unos mastines adorables, que incluso nos siguieron, siendo fieles acompañantes en nuestras excursiones por la sierra de Aracena. ES DE 10!! We spent Holy Week in these spectacular houses. The area where they are is so beautiful!! Better than in the FOTOS!! The décor in the houses is really great and they are super-comfortable. It is like a film-set! The owners are really unobtrusive. They have adorable dogs who also came along with us, faithful companions on our walks about the sierra de Aracena. 10 out of 10!!

Just a quick line to say how much we enjoyed our week. On our first visit, Monica was in Holland so we only met for the first time last week. This was very much our loss on the first trip, Monica was so warm and friendly. Both Peter and Monica made us very welcome - everything was just perfect. I really didn't want to come home. I'm sure we'll be back!

We had an amazing month at Molino Río Alájar. Thanks.